Seefeld-in-Tirol
Information about Seefeld-in-Tirol can be obtained from the local tourist agency in German, English and Italian.
On this page: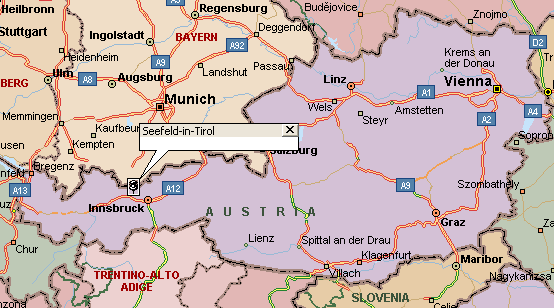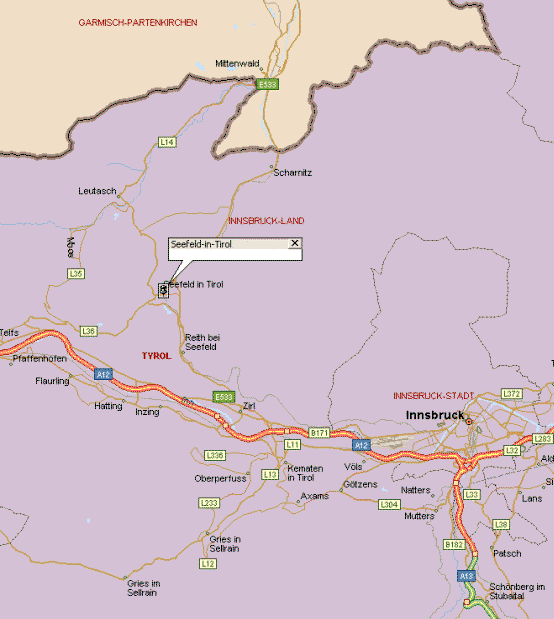 The history of the Seefeld plateau is inextricably linked to the old trade routes which led from the Inn valley through towards the settlements in what is present-day southern Germany. The Romans fortified a route through to their important settlement at Augsburg — and even today the address of the Seefeld school lies on the Römerweg — the "Roman Way".

The documented history of the village itself goes back to 1022, when it was known as 'Sevelt'. The village grew after it became a centre of pilgrimage in the 14th century following the Legend Of The Host, and at the start of the 15th century a guesthouse was built and the St Oswald Parish Church extended to deal with the flow of visitors.

However Seefeld's most famous church is not the church of St Oswald in the centre, but rather the Seekirchl on the south-western side of the village. The "Lake Chapel", as its name suggests, originally stood on an island surrounded by a lake. It is now, along with the unicorn, one of the symbols of Seefeld and there have been proposals put forward to restore the lake to its original condition

Old pre-war postcards show the village still clustered around the two churches, but the growth since the 1950s and 1960s has been explosive and Seefeld is probably one of the best known tourist destinations in Austria. Despite the expansion it has managed to keep its village atmosphere and a walk through the pedestrian centre with the background of three mountain ranges is one of the most pleasant experiences in Europe.
Check out www.walkseefeld.com/evenings for details of:
the Seefeld 9-pin bowling alley (Kegelbahn)
buggy rides
the Seefeld casino
Tyrolean evenings (dancing, costumes and yodelling)
live music